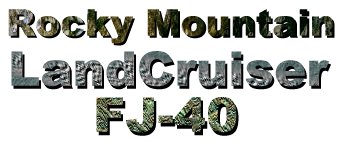 Colorado Area 4x4 Related Links :

4x4 Trails : Get the complete info on Colorado trails including directions, ratings, regulations and pictures.



Independence Trail System : Trail Report 1999 - by Brad Lovell - 4x4now.com



Montrose: Cactus Ridge and Die Trying 4x4 Trails : 2nd Annual Montrose, Colorado Memorial Day Madness



ColoradoGuide.com - 4x4 Trails : Four Wheeling Locations on the Front Range


Land Cruiser / FJ-40 Links:



Toyota Shows FJ Cruiser Concept at NAIAS: January 7, 2003 -- Detroit, MI -- Toyota unveiled the FJ Cruiser concept sport utility vehicle (SUV) at a press conference today at the 2003 North American International Auto Show (NAIAS). Rockcrawler.com



Land Cruiser Body Styles: Detals for each model of the FJ series at Off-Road.com



Real 4X4: Toyota Land Cruisers



Off-Road.com : Home

Off-Road.com : Land Cruiser area

Toyota Land Cruiser Association (TLCA) : Lots of Land Cruiser Resources



TLC Outfitters : Great Aftermarket Parts Selection



Man-a-Fre :Toyota Land Cruiser Parts and Accessories



4X4 Now : 4X4 Resources



4X4 Page : 4x4's and Land Cruisers Galore!



Boulder County Trails Database : Biking and Hiking Trails in Boulder County



Rising Sun : Four Wheel Drive Club of Colorado, Inc.





Back to the Homepage...



Feedback - For Comments or Questions please contact Chris Bianco